'Republican' Dating Sites*
Along with Republican Passions (the site you are on now), the sites listed below all focus on connecting Republican singles and conservative singles with others who are, at least, right-of-center politically. Each site below, regardless of the company running it, shares many of the same characteristics as many of the other sites. So, if you are looking for a great dating site focused on single Republicans, then there are MANY here to choose from, so look around to find the one that seems like the best fit for you.
AD

Republican Dating Connexion
Meet Republican Singles! Sign Up and Find Love Tonight!
Whether you are a life long Republican or you just consider yourself Conservative, Republican Dating Connexion has been designed to connect you with others who share your political views.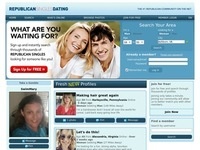 Republican Singles Dating
Start searching 1000's of Republicans in your area today!
On the conservative side? Open minded, but when you vote in elections, you always choose Republican? If the answers to these questions are yes, then this site might help you find someone who won't drive you crazy with their political views.

Republican-Dating
"Find Your Republican Match & Have Fun!"
For some people political views are a non-issue, but for others they can be a deal-breaker. If you are looking for someone who shares your conservative worldview, then Republican-Dating may help you find your right-leaning soul mate.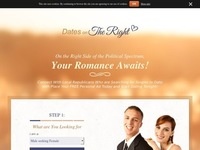 Dates On The Right
"On the Right Side of the Political Spectrum"
Connect With Local Republicans Who are Searching for Singles to Date. Place Your FREE Personal Ad Today and Start Dating Tonight!

Republican Chat City
"Come Talk Politics"
"Let Your Conservative Views and Values Fly Proudly at Republican Chat City!" Join Republican Chat City where you will find like-minded conservatives interested in engaging on more than a superficial level. Who knows, it may lead to something serious.

Republican Personals
Online Dating For Republicans
If you are looking for single Republicans who are interested in a real relationship, then Republican Personals is worth a look. Sign up to enjoy dating and romance with other conservative singles.
AD
Republican Singles
"The Right Dating Site!"
The goal of the Republican Singles website is to bring together Republican singles to create Republican families that uphold core Republican values.
Republican People Meet
Where Single Republicans Meet Online
If you are tired of first dates that spiral out of control once politics is discussed, then Republican People Meet is perfect for you. Find conservative singles who share your values and your political views.
AD
*Sites listed on this page are a combination of ads, affiliate related Sites and general non-partnership related sites that match the theme of Republican Passions.